PrimeCarers Insured and Verified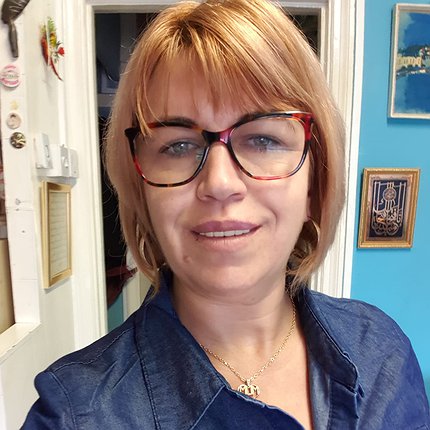 Liliana D
Qualified carer
Day Night
Get in touch for a no obligation chat.
Summary
My name is Liliana and I was born in Romania in 1974. I now have two children, a boy and girl 22 and 24 years, both students. I have lived in London, in the Golders Green area for about 4 years, and have spent the whole time working as a carer. I am also up to date with my training, having recently received my Certificate for my Level 3 in Health and Social Care
During my time as a carer, i have worked with all sorts of people with difficulties and have learned how to approach any situation with confidence. I have a positive mindset and am careful and sensitive, ambitious and enthusiastic with the smile on my dace, no matter what the obstacle.
I love my work and people I love what I do, probably because I treat all my clients with respect and patience, am reliable and caring. A carer needs to be able to connect with their client in order to help them through it, and a great carer will understand the emotions their clients may struggle with as they face new realities.
I hope that you see what I can bring to you and your family, please get in touch. Thanks !
Skills
Companionship Cooking Laundry Cleaning Administrative Tasks Catheter Care Hoist Assistance Toileting Bathing Moving and Handling Assistance with Dressing Medication Reminders Eating and drinking assistance
Experience
Alzheimer's Dementia Vascular Dementia Parkinson's disease Anxiety Depression Schizophrenia Mild cognitive impairment Deafness Visual Impairment Physical Disability Osteoporosis Rheumatoid Arthritis Orthopaedic Injuries COPD Stroke Heart Disease End of life care ME Urinary Tract Infection Cancer Post Operative
Pricing
All prices already include our fee. Engage a carer with confidence, knowing that the price you see is the price you pay.
Day
(06:00-22:00)
Night
(22:00-06:00)
Less than 1 hour
£10.00/½ hr
1 to 6 hours
£15.00/hr
6 or more hours
£12.75/hr
£15.00/hr
Give us a call on 0203 369 3624 to dicuss how care is priced.
Feedback
This carer has not received any feedback