A Granny Annexe, Granny Flat or Granny Cottage is a self-contained accommodation built within, attached to or on the grounds of a house that is suitable for an elderly person to live in. Lots of people want them but it's not always easy to find houses for sale with one already built. In this article, we'll show you one quick way to filter the tens of thousands of properties on Rightmove so that you can find a house with a granny annexe for sale. Read on to find out more…
Step 1: Search for properties in your area
We're going to use rightmove.co.uk to find houses today. We've chosen Rightmove because it's the biggest property portal site in the UK and because it has a keyword filtering feature we can make use of. So, head to rightmove.co.uk and search for a house that matches your requirements e.g. 3 bedroom houses in Chislehurst, UK.
Step 2: Select "Add keyword" to filter the results
Once you've got the initial search results you can refine your results by including a keyword. It's not the most obvious button but I've highlighted it in green below.
Step 3: Try a few different Granny Annexe search terms
The word Annexe has different spellings depending on the American or English interpretation but other terms are popular to describe the same thing so it's worth trying a few different searches to get the best results. Try the following search terms to see what you can find in your area:
Granny Annex / Granny Annexe
Granny Flat
Granny Cottage
Wheelchair access
Self-contained flat
Self-contained cottage
When weighing up options to care for a loved one a Granny Annex, Granny Flat or Granny Cottage can provide many benefits, here are a few:
Allows you to spend more time with your loved one.
Fewer worries about them falling over and nobody being around to help them.
Selling their existing home can free up money to pay for any care they may require.
Gives your loved one more autonomy and allows them to feel more at home than moving to a care home.
With all these benefits the Granny Annexe is becoming an increasingly popular way to care for ageing parents.
To find out more about granny annexes, you can read our complete guide.
Here are some houses with Granny Annexes/Flats we were able to find at different price points
This 4 bedroom detached farmhouse on the Isle of Wight includes a two bedroomed cottage on site that would make the perfect residence for someones loved one. All the essentials are on the ground floor and upstairs could easily be used by a live-in carer.
This house has been built into a bit of a strange shape but it comes with a separate entirely self-contained flat on the lower-ground floor.
This family house in Glasgow has been extended with a self-contained annexe which would make a great family home.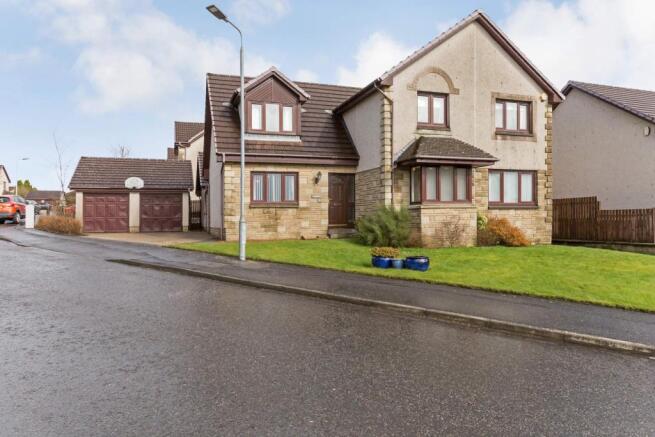 Want to add more accommodation to your existing house?
If you can't find a house for sale that meets your needs you might have to get creative with your existing home. There are lots of options for upgrading a home to work for elderly parents. One hugely popular way to make space quickly is to buy a prefabricated Granny Annexe. The supplier grannyannexe.com can install within 5-7 weeks and offers a free site survey.
Other alternatives include adding a proper extension to your own home (which may take longer to apply for planning permission but) can be done. If you'd like to talk to an architect about what options might be available to you then you can find one here.